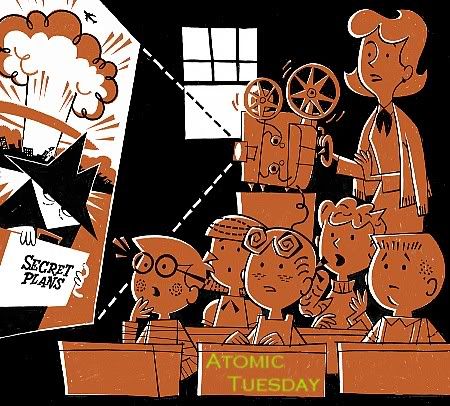 Welcome to this week's Atomic Tuesday! I recently bought a vintage napkin holder- aqua plastic with silver starbursts on it (I know! Could you die of awesome?!) and while tooling around online I found the
exact
same one, except in white. Sweet. Ok, so it's not
exactly
the same. Boo! But come on, a starburst-y napkin holder kicks all kinds of ass no matter what color it is, am I right? Sweet. So that inspired me to find more napkin-y goodness. Sadly, there is not what I would call a plethora of them out there. Boo! But I did find a couple pretty cool ones, so I bring you: the vintage napkin holder. And we're back to sweet.
(And PS: "Girls Just want to Have Lunch" is the closest song I could find that was even remotely related to today's theme. Try to find a song about napkins. There are none! Songwriters of the world, what gives, you slackers?! Please don't negate our forgotten household accessories. They play a vital role in kitchen maintenance and deserve our love and respect. This has been a Public Service Announcement from The Girl Can't Help It.)
Vintage 50's Atomic Starburst Napkin Holder
. This is the one! This is exactly like the one I just bought myself! I want this one too. Don't needs it,
wants
it...wants the preciousssss...(if anyone gets that reference, welcome to the Nerd Club I'm not starting!)
Vintage Gold Metal Napkin Holder
. A star
and
a little atomic starburst at the same? Won't the world come to an end as we know it? Like if Clark Kent and Superman showed up at the same place at the same time. Impossible, yes. Exactly my point. (What?)
"Girls Just Want To Have Lunch" by Weird Al Yankovic, of course.