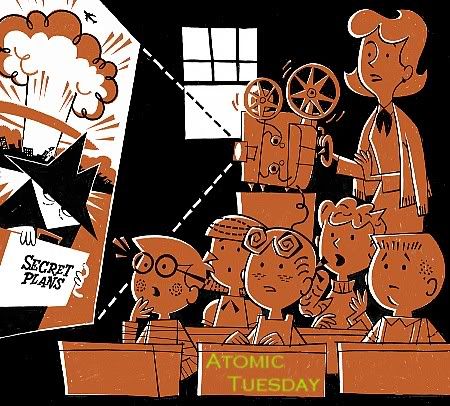 Welcome to the first Atomic Tuesday! In keeping with the other themed days around this joint, every Tuesday will now be
Atomic Tuesday
(play 50's B-movie horror flick creepy organ music here), where I'll post a vintage find with an atomic print, pattern or something vaguely related to something atomic. (I mean really, people, "Atomic Tuesday" pretty much explains it all, doesn't it?)
If you're a seller who has something for sale that fits with any of the theme days (Atomic Tuesdays, Way-Out Wednesdays or My Aqua Blue Heaven Fridays) and you'd like a little free advertising, by all means please let me know and I'll see if I can pimp you out. I takes care of my bitches, yo.
Onward to Atomic Tuesday! Today it's more vintage 50's glasses. I lurve glasses so very much, it's a sickness, sort of. I hope you dig this new theme and remember, tomorrow is Way-Out Wedneday! Theme hint for Wednesday: Can you handle these hooters?
Set of 2 Vintage 50's
Sparkly Atomic Starburst Glasses
.
One little ol' Vintage 50's
Geometric Atomic Starburst Shot Glass
.