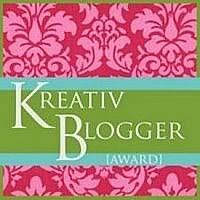 Over the weekend I was given a major award! An award of awesomeness? An award of kickassery? No! Something way better. I was bestowed The Kreativ Blogger Award from gracious blogger extraordinaire & fellow Vintage Fashion Guild member, Fuzzylizzie, of
The Vintage Traveler
. I'm not only grateful, but
stunned
that someone as classy and dignified as Lizzie would even
read
my blog, which is...not so much classy. Or dignified. So thank you, Lizzie! I am flattered and amazed! (Also hungry and grumpy.)
So the deal is: I now pass the award onto 7 different people and then say 7 things I love. Those 7 peeps in turn give it to 7 other peeps and mention 7 things they love and so on. Piece-o-cake!
Blogs I'm awarding the hell out of:
1.) Bobbins and Bombshells2.) The Vintage Librarian3.) Vintage Goddess4.) Real-Vintage5.) Miss Matilda Dreams6.) Tales of a Retro Modern Housewife7.) Rosina Lee
Now 7 things I love:
1. I love to cook and bake. I hear it's a weird thing, imagining me to be all happy housewife-y & domestic goddess-y and all, but I do. I especially love baking in the winter.
2. I love health food stores as much as I love total garbage food. In fact, I've worked in 3 different health food stores in my retail days. Seriously. Despite my loathing of hippies and all things linked to them. I know. Full of wonderments and contradictions, I am.
3. I love when someone tells me that something I wrote here, some small little nonsensical line of gibberish, made them laugh and forget they were having the "worst day ever" for the moment. No confirmation on whether they went back to having the "worst day ever" after they left here. Probably.
4. I love the smell combo of rain on hot cement & freshly mowed grass. It's so summer.
5. I love not getting yelled at from someone who's selling something that I mocked here. So I guess that means I love when someone "gets it" and laughs along.
6. I love taking long, no-particular-place-to-go drives in the fall.
7. I love my own little family, who I think are about the coolest people I know. Also nerdiest, which translates to double love in my book.