Welcome to this week's Atomic Tuesday!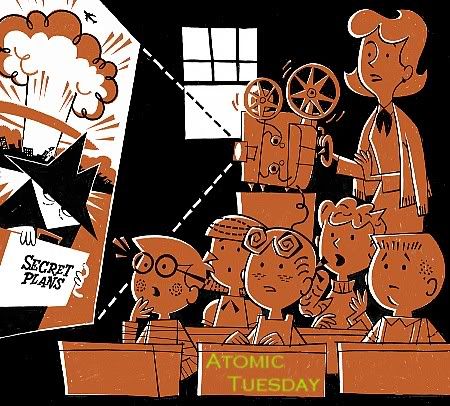 I wonder if any of you guys have this same problem as I? Do you ever feel...not so fresh?... PSYCHE! That's just gross and inappropriate, 2 things I am not. Ok, I
am
, just not when it comes to rocking cliche feminine hygiene jokes from the 80's. The problem I have is with finding decent vintage coffee mugs. Dishes, glasses, barware, I've got a ton of it. All mis-matched, of course- well, except for the fancy stuff, which is all matched but
never
gets used, because, really, who do I think I am? The Queen of England who throws fancy-pants dinner parties? (
Does
she throw fancy-pants parties? I would assume so, she is the Queen after all. Also, "pants" means something entirely different in the UK, which makes this even funnier.)
You can generally find a buttload of vintage mugs in thrift stores any day of the week, but they're either those artsy fartsy, earth-toned, heavy pottery ones from the 70's that some hippie made with hemp and mud and crap OR factory-made ceramic ones with orange and yellow daisies all over them. I can appreciate both, and in fact, in the right vintage-themed kitchen the orange & yellow floral ones could be cool, but it's just not what I'm looking for right now. I'm always on the hunt for cool atomic mugs, any color or pattern works. I'm easy. (Hey-yoooo!) Sure, atomic-y mugs are out there. But most of the time you have to buy the entire matching set, including all the dishes. Or more commonly, they're always tea cups being
called
coffee mugs. There's a big difference! Tea cups are too small for a big-time coffee maniac such as myself. I mean, really, how hard is it to find actual
coffee
mugs in a cool pattern? Well, I've come to find it's pretty hard. (That's what she said. Zing!)
So for today's Atomic Tuesday, I've been stalking online for a while, trying to gather a decent enough collection of cool vintage 50's & 60's mugs to show you. I'm not gonna lie to you though, some of these are, in fact, tea cups, which makes me a little stab-a-rific and they're STILL not exactly what I had in mind, but hey, they're still rockin', so let's move on already. Enjoy!
Vintage Atomic Snowflake Mugs, Set of 4.
Vintage 60's Atomic "Cathay" Pattern Mugs, Set of 2.
Vintage 50's/60's Metlox Poppytrail Mugs, Set of 2
.
Vintage 60's "Starlight" Pattern Starburst Teacups, Set of 3.
Vintage 60's Syralite "Captain's Table" Pattern Teacups, Set of 4.
Captain Stubing sold separately.
Vintage 60's Homer Laughlin Footed Mugs, Set of 4.
DO WANT THESE. These scream "Lewbowski", with all their bowl-a-rama kitschiness.
"Java Jive" by the Ink Spots.