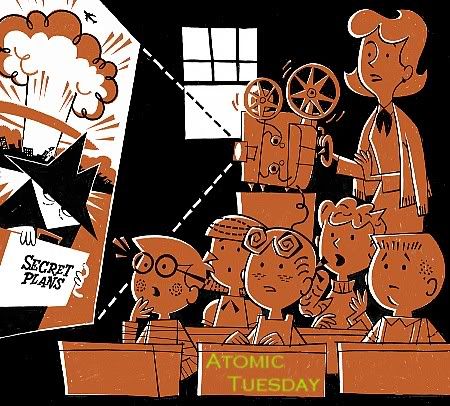 Welcome to this week's Atomic Tuesday! We schmucks in the northeast have been under a grey skies and rain attack for the past 3 weeks. I kid you not: 3 straight weeks. The Winona-in-Beetlejuice, goth kid inside of me secretly loves it (not so secret
now
, is it, voices in my head?!), and my grumpy German DNA refuses to let me tan, but go from glow-in-the-dark white to peeled-skin red in about 3 minutes. I'm like a walking nuclear explosion waiting to happen as soon as I see the light of day. I'm a freaking Gremlin. So this 3 week hiatus of sun is a win-win. Only northeasterners aren't exactly the friendliest of people and in fact, I think this section ranks as the grumpiest in all of the USA. (Sorry, PA, NJ, NY, CT, VT, RI, MA, NH, and ME. But at least we win at
something
. Screw you, charming and lovely citizens of Wisconsin!) And since we're not the nicest lot to begin with, add some crap weather and lack of sunshine and we've lost all will to get motivated and you can only imagine all the sweet going on around here. (Except me. I'm always sweet, dammit. I'll shiv anyone who says otherwise.)
So I found it only fitting to bring coffee into today's atomic-themed mix, because lord knows nothing else is working at this point. Except maybe a Zoloft/Jack Daniels cocktail or 3. Please enjoy these atomic starburst-printed vintage 50's Pyrex coffee carafes, or I swear I will pull this car over, reach back there and give you damn kids what-for. (Looks like it's time for another upper cocktail!)
Shorty atomic carafe
from Retro Monkey.
The all growns up version
of the one above, from By the Wayside.
Brass! With a little tea candle warmer stand!
from Jupiter & Mars.
Amoebas and starbursts
from Haus Proud.
Wagon wheel-y
, movin' on up with a schmacy electric warmer, from Betty's Kitchen.
Pinecones!
from Geo Pillow.
OH MY GOD I NEVER SAW A TRIANGLE CARAFE BEFORE IT'S SO COOL I CAN'T STAND IT!
from ReBop Shop.
OH MY GOD THEY'RE SO LITTLE AND CUTE I CAN'T EVEN STAND IT!
, wee little individual carafes from Coming Around Again.