Just a quick "Happy Easter, Y'all" (that's right I said y'all and am not even southern, what?) before I hit the trail for Hamland.
Did you know that
Marshmallow Peeps
are made not too far from where I live here in PA and were invented in 1953? Did you know that you can take a tour of the
Just Born
factory (the company that also makes Mike and Ikes, created in 1940) and get a free Peep at the end? Pennsylvania REPRESENT.
In honor of the day, here are the reasons why Marshmallow Peeps kick Easter's ass.
1.) Peeps will storm the beaches of Normandy for you.
2.) Peeps never fall to the Dark Side.
3.) Peeps will party like it's it's your birthday. (And drink Bacardi. Like it's your birthday.)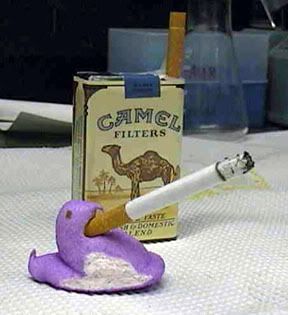 4.) Peeps are your own. Personal. Jesus.