Welcome to Prints Charming Sunday!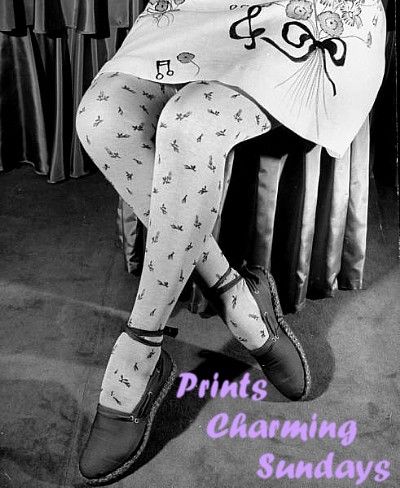 For the 2.4 of you out there who
aren't
drawn into the Mad Men love affair, tonight is *finally* the season premiere! (No spoilers here so no worries, my international pals!) We were left hanging last season with many, well, cliffhangers (duh) and I personally can't wait to see who's gonna end up with who, who's gonna make it, who's gonna fail, and of course, who's
doing
who!
I spent a buttload of time this weekend looking for today's vintage novelty print that was apropos for a Mad Men theme. And let me just say: wow. Talk about a clusterfark of wrong. While there's alot of vintage out there that's properly keyworded, there's soooo much labeled with "Mad Men" that couldn't be LESS "Mad Men" if Don walked off the set personally and smacked it upside the head with a pack of Lucky Strikes. I'm in the "if you're doing it right, you don't need to rely on cheesy keywords" camp, but also the "what the hell do I care what other sellers do" camp. But seriously, people. 1970's polyester maxis?
No!
1980s secretary dresses?
Nein!
Serving trays?
What the hell?!
For the love of all things Draper, let's stop the keyword bastardization and let a great dress be just a great dress and not clog up the internets with wrong labels! We'll be seeing polyester soon enough on the show, so all in good time, my pretties, all in good time.
I don't want you to think I'm a total negative nellie today, though! I did find many appropriate items that fit the Mad Men bill, and to you vintage sellers who "get it", I salute you. I could show you a ton of great wiggle dresses a la Joan, or dark suits & skinny ties a la Don, but it
is
Prints Charming Sunday, after all, so a print it must be! With a nod to Betty's upscale preppiness and fondness for riding horses, I give you today's pick:
This
Vintage Equestrian Novelty Print Vested Gentress Skirt
, currently available on Etsy from seller
Vintage Stylez.