...and Jack Frost is nipping at your nose, if you live just about anywhere in the US on this arctic-rific Atomic Tuesday!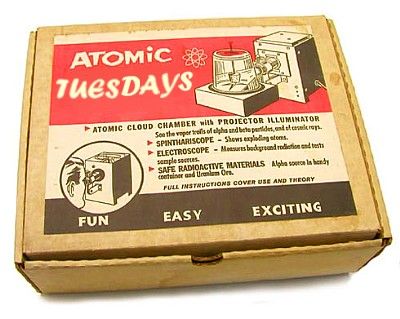 Today's pick for Atomic Tuesday is
so
cool,
so
mid-century modern in it's wackiness, I thought maybe it was just a really, really good repro. But no. It's the real deal and spec-freaking-tacular. It's almost as if the creator of this said "Hey, it's the 1950's! I'm gonna design a print that is so totally 50's, it'll be crazy!" It's kind of like when someone you know recommends going to a diner that "you're just gonna LOVE" because it's "soooo 50's", and then you get there and the place is SCREAMING cliche, with it's checkerboard floors, repro tin signs of I Love Lucy, and a poster of Elvis, Marilyn and James Dean playing pool on the walls. Because that's
exactly
what real, "Mom and Pop" type diners in the 1950's looked like. And all the people in the diner were talking about how 50's it was of them to be sitting in a diner, drinking milkshakes and playing Buddy Holly on their tabletop jukeboxes.
Riiiight.
So today's pick is just like that. Only not.
The thing of which I speak:
Awesome, right? First of all, it's PINK, which rules...
...wacky animal wall hangers...Paris print, 'natch...
...hot damn, a fiberglass drum floor lamp (?!)...glasses of iced tea in the holder...magazine rack....
....shish kebabs hanging by the fireplace ...zig-zag wrought iron log stand...and a starburst clock?! Are you kidding me?!...
(OK, I want everything in each picture so far...and a house that looks this iconic, all the time...)
...And of COURSE, the standard rooster. Because it was apparently the poultry of choice in interior design from about 1950 to 1970, since they show up EVERYWHERE and on EVERYTHING. (Well, those and eagles. Just can't escape either one.)
This superb
Vintage 50's Quintessential Mid-Century Modern "Interior Scenes" Tablecloth
is available for $34 from seller
Neato Keen
.