Welcome to Prints Charming Sunday!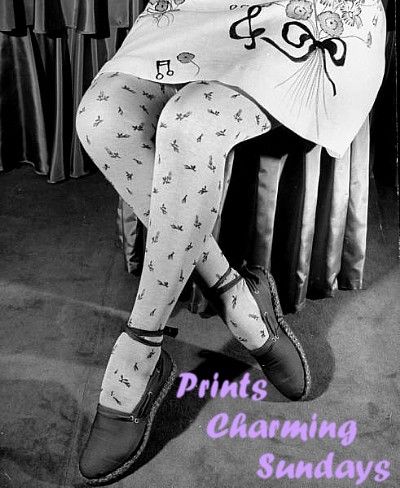 I thought today's post should be done in honor of Barbara Billingsley, who I'm sure you all remember for her role as repressed housewife June Cleaver on the 1950's-'60s tv show
Leave it to Beaver.
R.I.P, Miss B. We'll miss you!
Barbara's fashion style on
Leave it to Beaver
was upper middle class, but not flashy or too "money" (she
was
"just" a housewife and mom, after all). She rocked smart, matching shirtdress and cardigan sets and the ubiquitous (and now cliche) pearls like
nobody's
business!
It wasn't an easy feat to find a classic shirtdress with a novelty print that wasn't *too* nutty or over the top for today's post, as her character never would've worn anything too bold, but I think I found just the thing (and how much it resembles her dress in the pic above is kinda cool), this
Vintage 50's Butterfly and Pocket Watch Novelty Print Dress
, available on Etsy from seller
Our Tea Party
, for a mere 40 bucks!:
I admit I never knew too much about Miss B and her acting career outside of Leave it to Beaver, though I recall her small but WAY sassy bit part on an episode of the tv show
Roseanne
in the '90s. But my favorite is, of course, her *ingenious* role as the jive talkin' old white broad on
Airplane!
("Stewardess, I speak jive."). She was ahead of her time in those unexpected comedic roles, long before Betty White became, well, Betty White. And so I leave you with these final thoughts, immortalised by Miss Jive Talker herself:
"Chump don' wan' no help, chump don' GET da help!"